Sushi Salad          
2 cups of cooked sushi rice
2 sheets of sushi nori (seaweed)
Fake crab (or whatever kind of fish you want)
grated carrot
avocado
cucumber 
Official dressing:
2 tblspn rice vinegar
1/4 c. sugar
1 tspn salt
5 tblspn canola oil
2 tblspn sesame oil
2 tblspn soy sauce 
my changes/additions:
(I don't put in the cherry wine, I put in less sugar than the recipe calls for, and I also add about 2 Tblspns of sesame oil and some soy sauce)
Challah Recipe : 
2 Tblspns yeast
3 Tblspns sugar
1 c. warm water
put together, wait till bubbles
add 1 c. warm water
1 c. sugar
1 c. oil
4 eggs
8 or more cups of flour (usually more)
(if you need more directions, let me know - it's basically letting it rise, shaping it, letting it rise some more and then on 350 until golden brown - 25-30 minutes usually)
enjoy!
Matzah Ball Soup 
1 pound matzah meal or 1 pound ground matzah 
3-4 eggs, well beaten 
pinch of salt 
3/4 cup soup stock 
1/4 cup water 

Mix matzah meal, eggs and salt. Form into balls and boil in 6-quart pot filled with salted water for 20-30 minutes.
Remove and drain. Put in soup broth until ready to serve.
Taco Salad: 
·     2 heads of Romaine Lettuce
·     2 tomatoes, diced
·     1 avocado, diced
·     1/2 red onion, sliced
·     1 bag Barbeque Taco Chips
·     1/2 cup mild salsa
·     1/2 cup mayonnaise
·     Sprinkle of garlic powder
In a medium sized bowl mix the salsa, mayonnaise, and garlic powder and set aside. In a large bowl combine salad ingredients and lightly coat with dressing.
Olive Dip:
·     1 jar good quality green olives with pimento
·     3 tbsp. mayonnaise (adjust to personal preference)
·    2 cloves of fresh garlic
Drain olives, and in a food processor or with a hand blender, pulse the olives and mayonnaise to desired consistency. Do not over pulse.
Chicken Soup: 
1 chicken or chicken bones
8 cups of water
1 Tblspn salt
4 carrots peeled and cut into thirds
4 stalks of celery cut into thirds
1 onion, peeled and cut into quarters
4 zucchinis peeled and cut into thirds
2 cloves of garlic peeled and crushed
Place chicken in pot with water and salt. Bring to a boil. Add vegetables and return pot to a boil. Remove chicken and discard bones. Add chicken pieces back to the pot. Simmer for 1 ½ hours or more (the longer the better)
Potato Boreka Recipe: 
1 sheet puff pastry
2 russet potatoes, peeled cut, in ½ inch cubes
½ brown onion " "
1-2 cloves of peeled garlic
Salt and pepper
1 egg beaten
In rapidly boiling water boil potatoes onion and garlic until tender 20 min, mash, season with salt and pepper, mix in egg.
On a well-flowered surface, gently roll each puff pastry to 12/16
Cut into 12 squares, place 2 teaspoons of potato filling in middle of each square, moisten the corners of each square, fold into triangular half, seal edges, brush with egg wash, bake 20-25 minutes
(puff pastry, cook potatoes, saute a lot of onions in generous amt of oil until well done. add eggs
maybe 1 egg for every 6-8 potatoes, salt to taste. i add salt before eggs so that i can taste.)
Potato Kugel
For 2 pans of potato kugel:
10 potatoes
5 onions
10 eggs
1 Oil -not mixed, but put on bottom of pan and on top
2 heaping Tbsp Salt 
1 tsp Pepper
Beat the eggs in a bowl first so that grated potatoes and onions can go straight into the eggs (keeps the potato kugel white). Grate 2 potatoes, then one onion, 2 potatoes, then one onion (keep alternating). Add spices. Oil goes in pan and on top of kugel
Covered for 2 hrs
Uncoverd for an hr or two
Challah Kugel
2 medium challahs - soak in water, soymilk or apple juice for about 10 minutes (I use soymilk). Remove crust, squeeze off excess liquid
Put wet, squeezed challah into bowl
Add:
5 eggs 
1 cup of sugar
2 tspn vanilla extract
½ cup oil
1 packet of dry vanilla pudding
2-3 apples (optional) - I skip
Sugar to sprinkle on top
Mix all ingredients together.
Bake uncovered for 1 hour on 350 in a 9 by 13 pan
Sweet noodle kugel: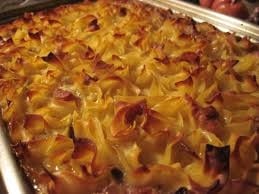 8 oz. medium noodles
¼ c. margarine cut into small pieces
4 eggs, beaten
½ c. sugar
1 can of crushed (or tidbits) or pineapples
1 tsp cinnamon
1 tspn salt
Topping:
1 tsp cinnamon
¼ c. sugar
¼ c. corn flake crumbs
Cook noodles in 4-qt pot of boiling salted water for 10 minutes. Rinse. Drain and put into large bowl. While noodles are still hot, add margarine and mix until all the margarine is melted. Allow to cool 5 minutes. Preheat oven to 350. Add eggs, sugar, cinnamon, pineapple, and salt to noodles and mix well. Pour into a greased 8 by 8 inch baking pan.
TOPPING: Combine cinnamon, sugar, salt, and corn flake crumbs. Sprinkle over top of kugel, cover, and bake for 50 minutes. Uncover and bake 10 minutes longer until golden brown.
Serve warm or cold.
Chicken Dressings:
Glaze:
1/3 c. oil
1 tspn salt
1 Tblspn garlic powder
1 Tblspn onion powder
2 Tblspns paprika
Honey-soy sauce:
1/3 c. honey
3 Tblspns prepared mustard
3 Tblspns soy sauce

2 3-lb chickens, quartered. Rinse chickens, remove excess fat, and pat dry. Preheat oven to 350.
For Glaze: Prepare chicken and place in a large roasting pan. Combine oil and seasonings in a cup and brush on chicken quarters with a pastry brush. Bake covered for 1 hour and uncovered for ½ hour.
For Honey-soy sauce: Prepare chicken as above and place in a large roasting pan. Combine all ingredients in a cup and brush on chicken quarters. Bake uncovered for 1 ¼ to 1 ½ hours.
Babka:
7 cups flour
2 Tbs dry yeast
 3 eggs
 3/4 c sugar
1 c oil
1 tsp salt
1 1/4 c lukewarm water

 Filing:
 2 cup sugar
½ cup confectioners sugar
 1 cup sifted cocoa
 2 Tbsp coffee granules
 1 Tbsp vanilla sugar
Topping:
4 oz margarine (1stick)
½ cup sugar
1½ cup flour
1 Tbsp vanilla sugar
 To assemble:
 Divide dough into 3 parts. Roll out into rectangle. Smear with oil and spread 1/3 of the filling over. Roll jelly roll style. Then fold it in half and twist it 3 times. Sprinkle with topping. Repeat with other two portions
 1 egg, beaten for egg wash
 Bake at 350 for 45-1 hour